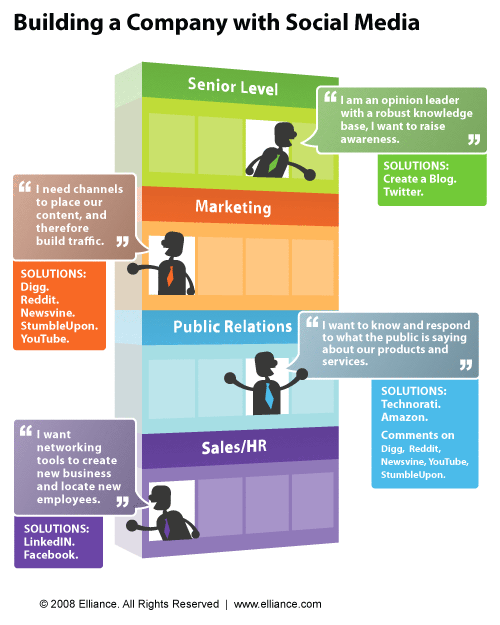 In an earlier post a couple of weeks ago I mentioned I was tracking down someone to be able to provide a better answer to their question about social media strategy. I thought I'd share a portion of a rather lengthy communication-be fore warned that this will probably one of the longest posts you'll read from-but a large portion of it are just reference lists. Scan and peruse for what you think will be most helpful:
Your strategy will largely depend on what you are hoping to accomplish by using social media. Are you concerned about managing your brand? Do you want to use it to identify opportunities or needs? Are you interested in gathering feedback regarding people's experience with you?
Once you decide what you want it will be easier to know what tools will be most helpful. You don't need to do everything that is out there. Just pick a few key mediums and do them very well. Is it going to be easier to convey and receive messages via a blog or tweets? Fan Pages or You Tube videos?
That being said this isn't a strategy but just some goals with a few tactics as to how you will achieve them. Your social media strategy is really just a subset of your marketing or communication strategy-it has to align and support the organization's overall strategy. Some general questions that Wikipedia (isn't this the source of all knowledge ad truth?) you'll want to know the answer to are:
Where is the organization trying to get to in the long-term?
Which markets should the organization compete in and what kinds of activities are involved in such markets? 
What advantage does the organization have that the competition doesn't?
What resources (skills, assets, finance, relationships, technical competence, and facilities) are required in order to be able to compete?
What external, environmental factors affect the organization's ability to compete?
What are the values and expectations of those who have power in and around the organization?
As noted by Shannon Paul, "Social media is best used for bringing down barriers to communication inside and outside the organization. It facilitates dialogue with stakeholders." Social media is finding the right people to listen to and have a conversation with. It can help you understand your "customers" and if you're meeting their needs in order to get what you want from them. Every interaction then creates an opinion with an individual who in turn may or may not share that experience and shape the public perception of your organization. It's a tool to create, maintain and lose social capital.
I'm not sure your team's comfort level with Social Media so here are some links to some free eBooks about Social Media that can be used to educate and give everyone the same vocabulary. This list was compiled by Pam Dyer, one of the bloggers I follow.
What is Social Media?, Antony Mayfield. (PDF) This book answers one simple question: What is social media? From iCrossing, this book runs down all the basics, from how social media is being used to providing definitions of the ever-changing jargon that personifies social media.
The Social Media Starter Kit, Amber Naslund. (PDF) This great book covers some of the most popular social media tools and technologies, including Twitter, LinkedIn, Facebook, and blogging, as well as some productivity and supporting tools to make social media task management easier and more fluid.
Getting a Foothold in Social Media, Amber Naslund. (PDF) A rundown of some of the basic, fundamental elements of building a social media plan, especially directed at smaller and medium-sized businesses, but certainly consistent for companies of any size.
Let's Talk: Social Media for Small Business, John Jantsch. (PDF) The latest version of Jantsch's great book includes a lot more information about Facebook, LinkedIn, and Twitter. He also offers some thoughts on managing the social media beast.
 Building a Social Media Team, Amber Naslund. (PDF) If you're considering deploying a team to tackle your social media efforts, this is a great read. It discusses why you might need a team, how to assemble one, roles and responsibilities, and more. It includes a look inside Humana's social media "Chamber Of Commerce" and how their interdisciplinary team is driving social media efforts at their company.
Content, Cory Doctorow. (PDF) Doctorow, one of the voices behind the blog Boing-Boing, is well-known for his opinions on technology, DRM, and the future of content. His ebook is a collection of some of his best work and is an insightful read.
Customer Service, The Art of Listening and Engagement Through Social Media, Brian Solis. (PDF) Engaging with and empowering your customers as an extension of your marketing efforts isn't new. However, in the era of social media, there are new tools and philosophies to more effectively listen and engage with customers and cultivate a more significant community, enhance your brand, build relationships, and hopefully create evangelists along the way.
Fish Where the Fish Are – Mapping Social Media to the Buying Cycle, Chris Brogan. (PDF) This ebook is meant to get you thinking about how social media ties to the more traditional buying cycle. It's a quick read that can help introduce you and your team to social media.
New Media and the Air Force, United States Air Force Public Affairs Agency. (PDF) This book shows how Airmen are using social media to stay informed and inform others. Airmen have the ability to communicate and tell the Air Force story better than anyone else. By reaching out with social media tools, they're able to do it quickly and in their own voice.
Social Media and Network Starting Points, Chris Brogan. (PDF) Organizations have a lot to consider once they decide they want to jump into social networks and social media. There are many opportunities to slide off the rails, or worse, to let the effort fall into disarray. Brogan offers some thoughts based on a question he received about guidelines, a toolbox, and how to grow a community.
Social Media Time Management, Amber Naslund. (PDF) If you're struggling with information overload and how to sort your priorities in social media, this ebook will give you some practical, actionable ideas for managing the firehose. It includes some thoughts on resource allocation and time commitments for social media strategies inside a business, as well as 9 strategies for keeping the social media monster manageable.
Social Media Tips: Sharing lessons learned to help your business grow, Jeff Hayzlett, Kodak. (PDF) CMO Hayzlett and his team put this book together to share some of their thoughts and firsthand experiences using social media for their business. Hayzlett takes the time to use social media like Twitter and Facebook because in today's media landscape it's vitally important to be where your customers are. Kodak has always embraced this marketing philosophy, and today that means being active in social media.
The Art of Community, Jono Bacon. (PDF) Bacon is the Community Manager for Ubuntu, one of the largest open source software projects. In this book he talks about the ins and outs of building, cultivating, and managing a community from the ground up. This is a must-read for anyone interested in community development.
The Essential Guide to Social Media, Brian Solis. (PDF) An executive outline of social media tools and resources needed to listen and participate, guiding PR, customer service, product development, and marketing.
The New Rules of Viral Marketing, David Meerman Scott. (PDF) The smart marketers profiled in this ebook tell you exactly how they used viral marketing and provide advice in their own words.
The Simple Web: A Philosophy for Getting What You Want, Skellie. (PDF) As bloggers and Webmasters, we want most or all of these things: more visitors, more subscribers, more comments, more money, more inbound links, and more people saying good things about us. Our wants aren't in question. It's the how that gets us. It's the how that has us reading a dozen blogs a day, trying to find the answer (or at least a little piece of it).
Once you've sifted through all that information you'll probably look up and realize the things have changed or will shortly. So another way to stay on top of the social media trends is to subscribe to a few of the top blogs on Social Media. The following list was compiled by the Social Media Examiner as the top 10 Social Media Blogs of 2010: